A Dublin girl finds her place on Inis Meáin
After winning a scholarship to spend transition year in the Gaeltacht, Joy Flaherty loved island life so much that she's staying for Leaving Cert. Here she recounts a week in her life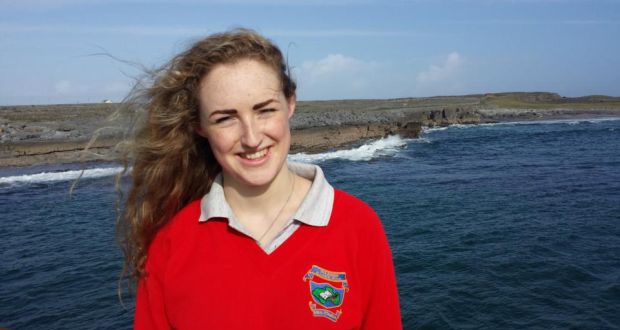 Joy Flaherty
Monday
I'm 16 years old and in sixth year at Coláiste Naomh Eoin, on Inis Meáin, in the Aran Islands. I started school here the September after my Junior Cert and went straight into fifth year. Before coming here I went to John Scottus School, a fee-paying school in Donnybrook, Dublin. I really liked it, and I only ever planned to leave it temporarily, for transition year, to improve my Irish.
It didn't work out like that, and island life grew on me. The year on the island was so worthwhile academically that it served as my fifth year, a common occurrence among students who come to Inis Meáin for transition year. I didn't have to think twice about coming back for sixth year.
When the idea of coming to Inis Meáin was suggested to me first, I was sceptical. To spend an entire school year away from home – and not just away from home but on a small Irish-speaking island in the middle of the Atlantic Ocean? No thanks. But I thought about it a lot and talked it over with my friends and family. I have two older brothers, David and Eoin, who are in college and who I miss a good bit when I'm away. Both of my parents thought moving here was a great idea and completely supported it, although my mam gets a bit sick of being the only girl in the house.
Irish had always been one of my favourite subjects, but the idea of being almost completely independent of my parents for a whole year was probably what tipped it for me in the end. The Department of Arts, Heritage and the Gaeltacht run a scholarship scheme, so I completed the application form, did the interview and was offered an accommodation scholarship.
My adventure started there and then. This island has attracted great scholars, including John Millington Synge, William Butler Yeats, Lady Gregory and Patrick Pearse. They were influenced by island life and folklore, as well as learning Irish. That set the bar for my ambitions.
Tuesday
I was woken up on Tuesday morning by one of my room-mates getting up early for Irish traditional-music lessons. I really relish these leisurely mornings, because last year my Tuesday mornings started with a chemistry class before school, an option offered to those who take it as an extra subject. I took up construction studies for the first time in fifth year, as it wasn't offered in my last school.
Coláiste Naomh Eoin has only 28 pupils, with just eight in the senior cycle, and the small size of the school really comes in handy.
In the first week of term the entire school went on a bonding day trip to Galway. We went kayaking on Lough Corrib, using NUIG's facilities, and then to a big sports centre called Pure Skill. It really helped to break the ice with the new students. By the time we got back to school we were all a lot more comfortable with one another. In such a small school, one person can affect the entire dynamic.
Wednesday
Going to school here is completely different from Dublin. You always feel so safe here. The idea of having an alarm on your house or even locking your front door would be laughable – completely different from having to watch your handbag as you walk around Dublin city. I found it a bit difficult to settle in at first. Not that I was homesick, as such: more that I have always lived in the city. You can jump on a bus into town after school or stay the night at your friend's house. I'm too busy for that here.
---

High Jinks on de Island
Peter Delmer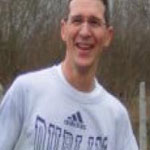 Inis "Iron" Meáin is a tough or tougher if you take in the dunes, 10k(ish) run around the island, which was held on Sunday for the fourth year running. The event is organized in aid of Coláiste Naomh Eoin, the island's school. One of our newest Athenry AC members, Sinead Foran, took part again this year and wrote a race report for your reading pleasure.
The Annual Inis "Iron" Meáin 10k/11km race is a fundraiser event for the secondary school on the island and has been run in mid-November for the last few years; (this is the fourth one). The focus is on fun running and word-of-mouth for entry, although Sonia O'Sullivan has taken part the last two years!
A group of friends and I, including fun runners and some more serious runners alike, arrived at Rossaveal just in time for the boat, which has become the place of meeting and greeting for the Inis "Iron" Meáin 10K runners. We got the calm crossing we were hoping for and arrived on Inis Meáin with just enough time for the pre-race cupán tae and scones provided by Padraic and Treasa at 'An Dún'. Then on to the halla for registration, where the atmosphere is completely laid back and fun! It's definitely the fun factor that brings runners back and back to this event on Inis Meáin.
A bit of a warm-up and after a quick pre-race briefing from race co-coordinator Lorcan O'Callarain, there was nothing left to do but go to the start line. Weather conditions were pretty unbelievable for November, very still, mild and even a little warm! We were off! This year, the race was led by David Campbell, who narrowly missed the Olympic qualifying time for the 800m in Beijing this year. The first 2k of the course was fairly manageable, though I was now bemoaning Treasa's pre-race scones, one small hill and on through the meandering boreens until we came to the fork in the road that divided the road run from the beach run. Having originally signed up for the road run, I changed my mind at the last minute and went for the beach run which has traditionally been the most challenging part of the course. We picked our way up and down the dunes and finally onto the beach, where relief quickly replaced any initial apprehension about this part of the course.…. the tide was out a good respectable distance, the sand was nice and solid and it was, thankfully, not too tough this time – it's also the first time I managed to appreciate what an amazing beach it is!
Roughly 2K of beach running later, we were off the beach, back on the boreens and free to enjoy the rest of the charms of this particularly pretty run, complete with islanders carrying bales of hay on pushbikes, residents lining the route at their front doors cheering the runners on. Others provided random and multiple water stops and lots of enthusiastic support.
I had forgotten how tough this 10K is! A lot tougher though I'm sure for the runners pushing buggies! Lots of hills follow, big and small, nothing though compared with the almost vertical hill at 8k, help! This required more hiking than running to be honest and I was seriously glad to get to the top where we were greeted by yet another water stop and more enthusiastic supporters there to see us through the final kilometer. It was pretty much downhill from there, fairly undemanding and straightforward for the rest of it, right to the finish line!
Winners were David Campbell in 1st place and approximately 10 mins ahead of his rival for the men's (around 36 minutes for a very challenging 11km) and a great run by Athenry AC's Elaine Walshe coming in 1st place for the women's race. Elaine was positioned 8th overall, finishing in around 47 minutes. Official times are still to be released.
Back in the halla we were greeted by a fantastic, much appreciated array of refreshments – all kinds of pastas, sponsored by Magnettis, soups and sandwiches and a great variety of desserts – making specific reference here to the great lemon meringue! All compliments of the island residents who as per the other years, made us feel so welcome during our stay on the island. Fancy dress themed 'the letter P' followed later and included great outfits such as 'peas in a pod', pineapples, a potted plant, playboy bunnies, Papa Smurf and even special guest appearances from Pamela Anderson and Sarah Palin! So the entertainment, as predicted, really did look after itself and partying went on into the early hours.
The Inis "Iron" Meáin' course doesn't get any easier but the craic certainly gets better and better!
---

Inis "Iron" Meáin 2009
By ld on September 30, 2009 2:30 PM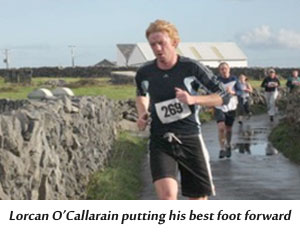 A 10 kilometre run over winding roadways, rough terrain, sand dunes and beaches, is what it takes to compete in the 'Inis Iron Meáin'. Every November since 2004, Inis Meáin hosts one of the most challenging athletic events in the country, a fact confirmed by regular participants such as Sonia O'Sullivan and David Campbell (last year's winner). The 10 kilometre run was initiated by Lorcain O'Callarain in 2004, the then Muinteoir i bhFeighil of Coláiste Naomh Eoin as a fundraiser for the new secondary school.
From late September onwards, the students and staff of Coláiste Naomh Eoin start preparations for the event. Entry fees must be recorded and acknowledged, the courses (crua agus fíor crua) must be marked out, hot food for after the event has to be organised, maps are prepared, accommodation and restaurants are booked, 10k goody bags are packed and nightly entertainment is decided. This hustle and bustle radiates throughout the island and the whole community gets behind the school, making it one of the most anticipated events of the year.
However, the weekend does not just focus on strenuous activity alone. It is a chance for friends to meet up and a fancy dress competition is held in the pub on the night of the 10k. Last year's fancy dress theme had to do with the letter 'P' which saw both islanders and mainlanders dressed up as Popeye, priests, pirates, pink ladies and pea pods!
However, to participate in the Inis "Iron" Meáin you do not have to be a serious athlete. There is an easier shorter course and you can walk, jog or run. On behalf of Coláiste Naomh Eoin, we would like to extend much thanks to all of you on the mainland and on Inis Meáin who supported the event to date, making it an event to remember which goes from strength to strength every year.
---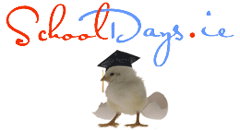 Boarding Scholarships to the Aran Islands
Would you like a unique opportunity to study in a small Gaeltacht school?

Colaiste Naomh Eoin, Inis Meáin, are offering a limited number of post-primary boarding scholarships to mainland students who wish to enrol in the school for part, or for the entire duration of their second level education. Coláiste Naomh Eoin is a thriving school boasting both an impressive pupil teacher ratio and a large selection of subjects taught through the medium of Irish to Leaving Certificate level.
Inis Meáin, a renowned haven for learners, is one of Ireland's best preserved jewels where culture and heritage are concerned. Gaeilge, in its richest form is still the spoken language of the people and modern living co-exists with ancient traditions. Students awarded scholarships shall be housed with a Bean an Tí for the academic year returning home for holidays and weekends.
Successful candidates are expected to have a reasonable command of the Irish language.
Tapaigh an deis iontach seo chun do chuid oideachais dara leibhéal a fháil i gceartlár na Gaeltachta gan cíos, cás ná cathú ort ar feadh na bliana!!
As scholarship numbers are limited similar private boarding packages are also offered at reasonable rates.
For further information and for Application Forms contact Mairéad Ní Fhátharta at 099-73991 during school hours or by e-mail at cneoin@hotmail.com
---

The Irish Times – Tuesday, October 12, 2010
Fighting for a way of life
LOUISE HOLDEN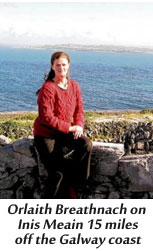 The 170 inhabitants of the Gaeltacht island of Inis Meáin fear they will lose their primary school, but principal Orlaith Breathnach, who came to the island from Dublin with her two young children, is working hard to protect it. WHAT'S YOUR IDEA OF THE PERFECT SCHOOL? How about a pupil-teacher ratio of one to two, a 100 per cent third-level transfer rate, total immersion in a second language and a view from the classroom of ancient dry stone walls winding down to the Atlantic Ocean? That's what's on offer to children on the island of Inis Meáin at its post-primary school Coláiste Naomh Eoin, which has 16 pupils and eight teachers (shared with other islands). Inis Meáin national school has nine pupils and two teachers. "We live our lives steeped in tradition and culture," says Orlaith Breathnach, principal of the school. "We have traditions here that I don't believe have survived anywhere else in the country. Our school curriculum is broad and colourful and always grounded in the cultural heritage of this island. The children absorb it so readily and love it. We had a Polish girl here for a year and she ended up getting a prize in the feis ceoil for her sean-nós singing. The judges didn't even know she was Polish."
Orlaith, from Dublin, spent 10 years of her working life teaching in a school in Ballinteer. She moved to the island in 1996. Why? "A man, why else?" she laughs, but admits that her friends and family looked askance at her decision. Orlaith was not a passionate Gaelgeoir and although she taught the subject as part of her job, she reveals that she sometimes regarded it as "a waste of an hour".
"I came out here without a thought – it was a big risk, I suppose. But I fell in love with the place and teaching here is completely different to my experience in Dublin. Back then I had to commit so much energy to discipline. In a large class you have to teach to the average student – you can't give much extra time to challenge the bright ones or support the weaker ones. Here, it's completely different. And teaching Irish is a joy – it's relevant to the children and they walk out the door and speak it."
Walking out the door of Inis Meáin primary school is a pleasure in itself. Small-scale farming and fishing are the main industries here and these have made little impact on the landscape apart from the animals, the dry stone walls and the little currachs on the shoreline.
There are very few cars on Inis Meáin – there is no regular car ferry – so the aural landscape is equally serene. With only 170 people living here year-round, this is a place without strangers.
However, there is growing unease among the islanders. There are only five children enrolled at the school next year. Department of Education guidelines suggest that only one teacher can be assigned to every eight primary pupils, therefore the school will probably lose its second teacher. A one-teacher school is perilously close to extinction and the loss of a school is devastating for an island.
A number of young families have come to Inis Meáin in the last five years and there are at least two new islanders on the way. However, even though five children are enrolled next year, there could be only two the year after. "If we lose our school, then young families will not be able to stay here," says Marie-Therese de Blacam, who recently married an islander and moved here to set up Inis Meáin Restaurant & Suites. She is expecting their first child. "If we can't get kids to the island, that will have a domino effect on the population here. We have 170 now, 135 is the tipping point. Below that, the island is at risk of complete depopulation."
De Blacam and Breathnach say it would be a tragedy to lose the human culture of the smallest Aran island. They are both determined to stay, but the school is central to their ambitions. Breathnach and de Blacam have come together with the principal of the post-primary school, Mairéad Ní Fhátharta, to devise a strategy to save the school. "There are families all over the country with a passion for the Irish language who would love to spend a year or more here, educating their children and learning the language," says Breathneach. "We have asked the Department of Rural, Community and Gaeltacht Affairs to put in place a scholarship and resettlement scheme to attract families with young children to the island."
A similar scheme is already running successfully in Naomh Eoin. "We have children in the post-primary school who have come here from other parts of Ireland on a scholarship that covers their living expenses with a Bean an Tí, transport back to the mainland every fortnight and all their books and school costs," she explains. Some have paid to send their children to school on the island and at just over €4,000 for a year's tuition and board, the arrangement competes favourably with any boarding school. This scheme has been very successful – more than half of the students in Naomh Eoin are not islanders. However, this Irish College-style arrangement is not suitable for primary school students, who could only come to the island with parents or guardians.
"We believe that there are many families in Ireland who could take a year to live here, or more, learn the language and give their children a taste of island schooling," says Breathnach. "We are hoping that the Department will see fit to fund a scholarship and resettlement grant that would bring people here. I know there's very little money to go around at the moment, but a handful of families would make all the difference to the future of Inis Meáin."
Even without a scholarship, Breathnach believes that a move to the island could be a viable option for some young parents.
"We have a fantastic broadband connection here, most houses on the island are connected now. We recently had a Wall Street trader living and working on the island. There are planes to Galway every day and the boat crosses every morning and evening. Houses are available to rent at between €300 and €500 per month. Otherwise the cost of living is very low, but the standard of living is very high."
Life here is rich and rewarding, say islanders. Many artists, poets and musicians find their creative home here – a long tradition dating back to John Millington Synge, whose house you can visit. "This island has a culture all its own. The community is very close. We have our own musical and sporting traditions and events, we even have our own feast days – Brídeoigí and Ceapairí – which are thriving and unique to here".
Breathnach, de Blacam and Ní Fhátharta are genuinely worried for the future of island life, and hope that by reaching out beyond the island they might secure a lifeline for their schools.
Mairéad Ní Fhátharta describes why she wants to safeguard island life for her two-year-old daughter Chloe: "There's a richness to my life here. My little girl has such freedom. She loves the animals, the landscape, and the community she's an important part of already. We are not deprived, or cut off. We live on a hidden treasure. I've lived the urban life and our standard of living is much higher here."
Meáin of Aran
Where is it: Inis Meáin is the middle island of Aran, 15 miles off the Galway coast Who's there: There are around 170 people living on the island year round, although the numbers rise in the summer.
What's there: Inis Meáin has one main pub, a number of guesthouses and, most recently, a designer hotel and restaurant. There are two schools, a church, a medical centre and a shop. There is also a successful clothing manufacturer – Inis Meáin Knitting Company.
What's not there: Noise, streets, crime, or overcrowded classrooms.
The landscape: Inis Meáin's terraced limestone is unique in Europe. There are hundreds of miles of dry stone walls covering the island, enclosing small green fields surrounded by beaches and cliff walks. Bicycles are the main source of transport.
Services: Daily 6 minute flights to Galway, two ferry crossings, 24-hour public health nurse and doctor three days a week, broadband, one primary and one secondary school
Traditions: Farming, fishing, sport, and music. Playwright John Millington Synge lived here. Irish is the first language.