Hi Folks,
What a weekend! We trust that you have recovered from your trip to Inis Meáin by now and hope that you all enjoyed the event as much as we did here. Our special 1916 commemorative Inis Iron Meáin was a huge success with the weather on our side and a record 270 registrations on the day! Our special guest for the day was Dr. Ciarán Ó Coigligh who has close connections with the island. Ciaran has a wealth of information regarding the cultural heritage of the island and this was in no short supply as he educated us about the close ties Inis Meáin has to the 1916 rising. 'Níl eolas gan oideachas' – go raibh mile maith agat a Chiarán!
All of us at Coláiste Naomh Eoin would like to extend our sincere thanks to you for coming to the island to support us. For those of you who stayed, full marks for making the effort for our 'Famous Irish People' themed fancy dress party. As usual, it was a great night with more than a few sore heads the following day! Though it was a difficult task for the adjudicators, the €100 prize went to the Jedward duo. It was also a pleasant surprise to see our own Michael D. make an appearance! Well done and many thanks to everyone who put their heart & soul into it.
Now to the serious stuff. A big congratulations to all the winners of Inis Iron Meáin 2016 and indeed to everybody who took part in this very challenging event. The winners of the Senior/Cúrsa Fíor Chrua Course were John Ahern (49:00) (not for the first time I might add) and Clare Doyle (50:25). The fastest islander of the Senior Course was Eoin de Blacám (54:10) and from Coláiste Naomh Eoin the fastest pupil in this category was our very own Seán Óg Ó Buaigh with an impressive time of 55:42.
The overall winner of the Novice/Cúrsa Crua Course was Peter Gormally (another one of our pupils at Coláiste Naomh Eoin) who did a fantastic run of 46:01 and in the women's catergory, another great run was made by Ronáit Ní Chonghaile (53:12) from Inis Mór who took her winners medal . The fastest novice islander was Brendan Ó Fátharta (48:00) and Cathal Ó Fátharta took the winning prize for fastest Meánscoil pupil on the day in this category (48:28).
The winners of the 5K category were John Higgins (20:50) who is no stranger to this competition and Sarah Deneher (25:05) a former pupil of Coláiste Naomh Eoin who took the women's prize. Oisín Seoighe was the faster bunscoil runner on the day with a time of 30:30 and Katie Ní Chualáin (35:09) was the winner of the bunscoil girls category.
Well done to you all!
(Please refer to the results page for a full listing of everyone's time in the coming week).
Winners Table. Inis Iron Meáin 2016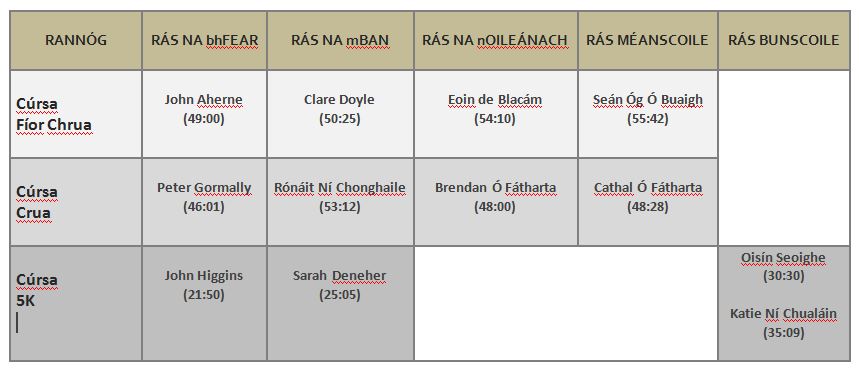 A very special thanks to the people who helped make the event a great success. To the sponsors on the mainland and island, in particular, 'Cniotáil Inis Meáin Teo.' who once again very generously donated the running prizes and goodie bag knitwear. To the parents & Bean an Tí's of Coláiste Naomh Eoin who helped in the hall and made some delicious deserts & cakes. To Padraig from Teach Ósta for putting up with the madness! To Noel & Martín who meticulously marked the course again this year and to all the water station attendants. To Aer Arann and Island Ferries who managed to get everybody on and off the island. To the restaurants and B&B's who opened especially for the event. To Padraig Ó Fátharta from An Dún who dedicates so much of his time year-in, year-out, training the pupils of Coláiste Naomh Eoin to run. To all of you who contributed your time and enthusiasm (too many of you to mention), we thank-you for making Coláiste Naomh Eoin's special annual event a great boost for the school and indeed for the island.
A special word of thanks must also go to the Galway & Roscommon Educational Training Board who supported us in such numbers again this year and to Tomás Breathnach the Irish Language Officer of the GRETB who continues to encourage and support the schools development as an educational centre through the medium of Irish.
Finally, we would like to express our gratitude to those of you who contributed a wealth of information in relation to Inis Meáin's connections to the heroes and leaders of the 1916 rising. Sr. Finnín from Inis Meáin was especially helpful and we were delighted to see her present on the day. A text and visual exhibition regarding this has been compiled and will be on display to the public when a venue has been selected.
Next year's Inis Iron Meáin will take place on Saturday the 11th of March 2017. A special online rate of €30 will apply until the 28th of February 2017. After that online registration and registration on the day will revert to €50.
Go mbeirimid beo ag an am seo arís!
A full gallery of pictures will be added in the coming days so please check back.
Inis Iron Meáin

is the original Island road race which continues to impress runners year after year! This event has been so successful for the past 12 years that it has inspired many other communities to stage similar events.

'Lá an 10K'

is a major social event for Inis Meáin, that sees the return of many familiar faces year after year.
Coláiste Naomh Eoin,

the Island's secondary school, is one of Ireland's most successful small schools and this event is key to ensuring that the school continues to thrive thus ensuring the viability of this Atlantic gem. The course is exceptionally scenic with a choice between a 5km or 10km road race or a more difficult 12km route which includes a spectacular beach run along Ceann Gainimh. Our 5K category was added to cater for both novice and senior interests.
Each entrant receives an exclusive race pack that includes a beanie hat from the luxury Inis Meáin label, a memento T-shirt and fuel for the Journey! This is an ideal family event and all children under 12 are free!! An extended early bird offer is currently available until January 31st 2017.
We are pleased to announce that Island Ferries have agreed to a special return rate of €18 return for all participants. To avail of this offer you must book your ticket in advance before March 6th 2017 by ringing (091) 568903
Video usage here made possible by the kind permission of Maitiú Ó Coimín (Tuairisc.ie)
Last year's Inis Iron Meáin was our biggest year yet with almost 300 of you participating on the day!