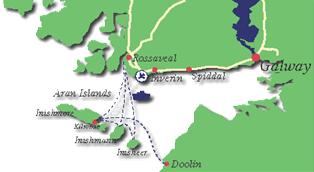 Travelling to the Aran Islands couldn't be easier. There are both ferry and flight options available which provide an excellent service to and from the islands a number of times a day.
The deadline for the use of the ferry. PROMO CODE has now passed.
Any participants who have not purchased their ferry tickets, please do so immediately. The cut-off point for purchasing tickets is this Tuesday the 26th of April at 12.00 midnight.
Click onto www.aranislandferries.com to purchase your tickets now. A 10% discount is automatically applied for online bookings
Fly to Inis Meáin in just 6 minutes with Aer Arann

Flights depart from Inverin, Connamara (45 minute drive from Galway).
Group rates available.
Mini-bus transfers available to and from Galway.

Tel: 091-593034
Web: www.aerarannislands.ie

Sail to Inis Meáin in 45 minutes with Aran Island Ferries

Sailings depart Rossaveal, Conamara @ 10.30 a.m.  & 6.00 p.m. daily.
Return sailings depart Inis Meáin @ 8.00 a.m. & 4.30 p.m. daily – (departs Inis Meáin @ 8:45 a.m on Sunday's)

Bus transfers available to and from Galway.

Tel: 091-568903
Web: www.aranislandferries.com